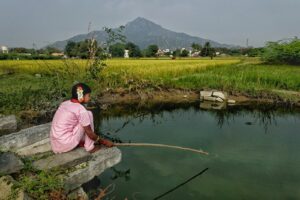 Repairing and finding shelter for the destitute women
On December 12, 2009, I am back in India!  As with every visit, I cannot wait to set my eyes on the holy mountain, Arunachala!
Here is a picture of Arunachala, in all its glory:
I soon find my beggar women friends sitting in front of the Ramana Ashram, their usual spot.  We are so happy to meet again!30 widows have been receiving their monthly pension from Shantimalai Ashram faithfully, on the 10th of each month.
 What is new this year?
Padmavathi cannot sweep any longer, due to the pain in her knees. Frequently, she can be found sitting with her friend who sells coconuts. Chinai, the widow with leprosy, no longer comes every day as she stays with her two handicapped daughters in her village. Kuppu is in deep sadness.  She has lost her partner, and now sits alone at the side of the road with his picture.  It is as if she has become a widow for the second time.
The next day, Manoharan and I visit widows in the outlying villages.  What I see takes my breath away!  I have never encountered such miserable conditions:  the roofs of the huts are permeable, full of holes and the mud walls are melting in the rain.  Water runs over the floors, and I find no beds.  Some small huts house 3 generations of women living together:  grandmother, daughter, and grandchild.  Or, widows with one or more children live together, sometimes paralyzed or otherwise handicapped.
In the villages, more and more women are now being registered for the monthly pension.  This supplements the very small living that they earn in the fields. A government project supports the women with 100 days of fieldwork each year, for which they are supposed to receive 65 rupees for each long day.  On average, they actually receive only 25 to 35 rupees per day.  The work is not guaranteed, as it depends on weather conditions, their health and ability to work.  What work does become available is divided amongst those available for work on that day. Manoharan of Shantimalai Ashram immediately steps in, and begins organizing construction work on six houses, enlisting the assistance of masons and roofers who live in the village.  Then, three more houses are considered for repair efforts.  Before my departure from India, we find 12 more houses that are in urgent need of repair.   Some need a new roof, or just a few new tiles or palm leaves.  Or, the whole house is in ruin and the only answer is to demolish it, and begin new construction.  On average, the cost for one new house is about $200.  A week before my return to Germany, I meet Thilo, a filmmaker.   He becomes quite interested in our widows project.  We start the next day!
Indian college students interview three of the widows:  Selvi, Annapurni, and Satiavani are up for the task, risking being ostracized by their communities.  They speak, in Tamil, about their situation with strong, firm voices.  Neighbors listen, and are deeply touched by their words, and the space between the words, when our own tears speak volumes.  This is the language of the heart, and it is universally understood.
Additionally, Danaseger, the son of Satiavani gets a surprise gift of 1500 rupees.  This will pay for his college fee, which was due last week.  He is overwhelmed with gratitude, not quite believing that he will now be able to continue his studies!
Thanks to your kind donations, he will receive this contribution every two months until he completes his course of study. This was India 2009 / 2010!  We have much deep gratitude to Arunachala's grace.  This grace at work has been so very apparent!
May all beings be happy, free of suffering, and free from pain.  May they all be free and happy.
Om Shanti, Shanti, Shanti!
Love,
Anna