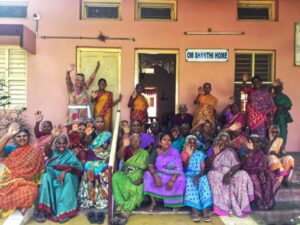 In January 2012 Om Shanthi Old Age Home was inaugaurated. Twelve homeless women moved in and are supplied by five single women round-the-clock.
We try to give them back their human dignity and respect by providing organic food from our garden, medical care, handicraft training, sitting Yoga, excursions to temples, Kirtan-singing and in addition to this we give them back their bangles, rings and all sorts of decorative items, which belong to an Indian woman, but which they were deprived of in order to symbolically kill their female identity.
It is a great joy for us to see, how new women recover in short time and live peacefully and happily together.
Thanks to your generous donations a second building "Florence Home" opened in August 2015 in collaboration with a Shanthimalai Handicrafts Development Society, so that 25 beds are now available.