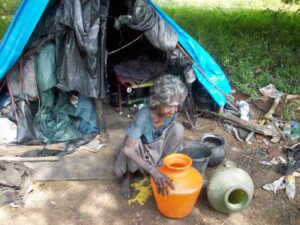 In 2003, Anna Etter was walking along a dusty central road in the south Indian town of Tiruvannamalai, Tamil Nadu, India. This was the beginning of a journey that would touch her heart and prompt her to begin a one-woman grassroots effort to make a difference in the lives of many forgotten widows in this area.
As she attempted to navigate the traffic, Anna noticed a bundle of rags along the side of the road which she had not seen the day before. Upon looking more closely, she was startled to find a woman who appeared to be in a very desperate state lying beneath the rags. Anna knew she had to do something to help this woman. Later, she would learn that this woman, like Anna herself, was a widow. Many other widows were forced to beg for their food and had only the open sky as their protection from the elements. Anna inquired amongst a few passersby about what could be done for this poor woman lying on the roadside. The response she received was an indifferent shrug of shoulders; nobody knew what to tell her.
One particular passerby simply laughed and said, "You are obviously new here in Tiru. This is the way it is here. There is nothing to be done. Let her be!" The woman seemed dazed and bewildered, and appeared mentally disturbed, in a totally miserable physical state. Anna considered taking her to Shanthimalai Hospital for medical assistance. She left to inquire about how to get to this hospital, how to get help. However, when she returned the woman was gone.
This experience, along with several other incidents and observations during the following years, inspired Anna to learn more about the life of Indian widows. She asked many questions, and perused the Internet, finding much information about the widows and their situation. It became very clear to Anna that this tragic way of life was a very common fate for widows in India. This fueled in Anna a great sense of urgency to find ways in which to help the widows, as a group. Some of the women had, quite simply, been rejected by their husbands, others chose to live on their own in favor of unbearable conditions with their own families, and most were widows.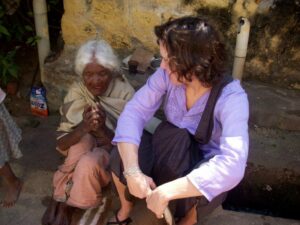 The widows believe what has always been said about them, that they have bad karma and their life is worthless without a husband. Upon their husband's death, wives lose all human rights and dignity and are shunned by society. In fact, until the last century, widows were forced to, or would willingly throw themselves upon their husband´s funeral pyre. In the rural areas of India, which is the majority of the country, widows are immediately disinherited and thrown out of their homes by their husband´s families. They are totally penniless, forced to beg on the side of the road, or (as in north India) forced to sing for hours each day in temples in order to receive one meager meal per day. Most widows feel that all they have to look forward to is the moment of death, and they are forever contemplating suicide. There are many young widows who hide and plan their suicide, because they are convinced that they have not earned a better life. Their own society has made them outcasts and has stripped them of their basic dignity as human beings.
In December 2007, Anna returned to Tiruvannamalai. She brought with her the funds she raised since her departure to help these women. When she had returned from India to her hometown in Bonn, Germany she began her one-woman grassroots effort to raise monies for the widows of Tiruvannamalai. She held yoga benefit sessions, and organized second-hand clothing sales to collect money for the widows.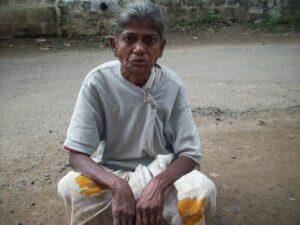 Anna met a sadhu named Ramakrishna who spoke both Tamil and fluent English. Ramakrishna was to become very instrumental in helping Anna find and communicate with these needy widows. (Sadhus are renunciates who have left behind all material and physical attachments to this world with regard to their own lives. They live in caves, forest and temples all over India. Although most Indians do not dare look upon a widow (let alone speak to one), sadhus have chosen to live a life apart from, or on the edges of society in order to focus on their own spiritual practice. They are not bound by the superstitions and restrictions of the society at large, and have the freedom to speak to all castes.)
Anna wanted to meet with the head of the German-run Shanthimalai Ashram about obtaining assistance for the widows in town. She met with Dr. Werner, who knew about the hardships suffered by the widows in the villages around Tiruvannamalai and expressed his willingness to help.
The next stage of the project was to organize the widows to be registered at Shanthimalai for their eligibility to receive a monthly pensions of 250 rupees (US$6) and free medical care in the Shanthimalai Hospital. This is being financed by the monies that Anna continues to raise, and supported by the cooperation and coordination of Shanthimalai . By January 2008, 13 widows in total had been newly registered for their monthly pension and medical benefits.
Shanthimalai Handicraft Development Society continues to lead these worthy efforts in Tiruvannamalai. Anna continues to raise charitable funds for the widows in Germany and Rochester, NY, USA. Her aim is to bring the plight of the widows into the light of public awareness, hoping to touch hearts, raise consciousness and bring some small measure of peace and comfort to the lives of these women.
In the year 2011, Shanthimalai Ashram donated a building in the nearby village of Kaveriampoondi. Today, the Om Shanthi Old Age Home provides shelter for 12 abused widows. The staff of 5 young women lives offsite. Widows themselves, they receive a salary to care for the widows both day and night. (Note: the original intention of the building was as a hospice. However, with proper care, the women's health and will to live returned.)
Please read the report of the year 2012/13. Additionally, 130 widows receive the monthly pension of 300 Rupees.
Please read our annual reports on this website. If you would like more information about the widows in India, please watch Youtube:"Widows in India" or "Witwen in Indien", where you can see our latest video about "OM SHANTHI OLD AGE HOME", the shelter we have created with your donations, where widows or single women learn to appreciate their own being, regardless of the fact that they do not have a husband.
We need help in any form! Your prayers and intentions that single women, all women, may experience the respect to which all human beings are entitled is appreciated equally, as are your kind contributions.
That which we give, we receive back seven-fold!.
Will you please help this worthy cause? Many thanks and blessings for your kind help! May you be happy, safe and peaceful!