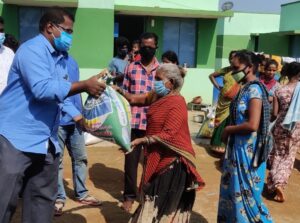 The Pandemic continues
We are deeply touched by your interest and compassion, which has been expressed by you since we saw pictures of the catastrophic Corona situation in North India on TV. Many of you have already ask for information about the situation in Tamil Nadu. We thank you very much for your deep concern and also for your donations, that arrived already on our account.
Now the pandemic is moving south and has reached Tiruvannamalai. During the last months the situation was quiet and the strict lockdown of March/April/Mai 2020 was slowly more and more released until now the first infected Corona-patients arrived in the hospitals. The number of unreported cases is much higher than official figures and infection and death rates are rising. The situation is changing rapidly.
The old widows in our Om Shanthi Old Age Home are living safely and well cared for in quarantine since one year now. This is due to your dear donations! We are all so grateful for your permanent support. They are all healthy and die happily in peace.
However we cannot close our eyes concerning the suffering of our young widows and their children and all people in need, which were already supported by us with food and necessary items for their livelyhood throughout the last year. Grace to your dear donations we could several times deliver meals, food, vegetables, pocket money etc. The economic situation has deteriorated since one year. Now again a curfew has been imposed from 10 pm to 6am with a full lockdown on Sundays. The possibility of starving is just as possible like the danger of catching Corona.
How can we help?
Your donations are a great blessing for the people of India and here for our friends in Tiruvannamalai.
May your generosity bless you and your dear ones as well.
With deep gratitude
Anna and Paulette
Om Shanthi NGO