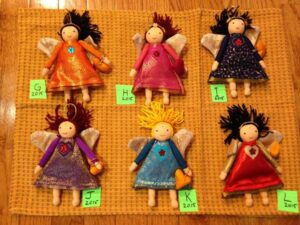 Our partner-organizations – helping to make it happen
Another winter in India with the widows is over and I would like to tell you the great news, that happened in India with the widows.
The best one is that Aruna Partnership, our friends in the USA, is fully supportive to the widow project. Huge donations came through their help to our Old Age Home for Widows, so that we were able to start construction of the second house. Thanks also to Journeys of Solutions, the Rochester support group of my dear friends and One World Goods in Rochester. We greatly appreciate all your endeavours and assure you, that we do our best to use your kind donations to support our old and young widows in the best possible ways. Many members of Aruna Partnership have visited our Old Age Home for Widows during this winter and were surprised and delighted about the joy and happiness, which is to be experienced here.
Who is "we"?
I just want to explain a little our organisations, that are working happily together in order to fulfill our job, to help the widows. There is Om Shanthi NGO from Germany with me (Anna) in it (please excuse my mistakes in writing). Then there is Shanthimalai Handicraft Development Society (SHDS) our partner organisation in India. It was originally initiated by Shanthimalai Ashram in order to distribute the handicraft projects of many women in the villages, in order to provide unskilled village women with fair wages, regular working hours and medical care in a friendly working atmosphere. The connection of Om Shanthi NGO from Germany just recently with SHDS can be seen as a gift of Arunachala, the holy mountain in Tiruvannamalai, because only with the active help of the devoted members like Manoharan and Lioba and their staff and the already existing structure of this organisation was it possible to transfer our good western wish to help and your kind donations into active help for women and their children that are the most vulnerable beings in Indian society: widows…. (please google: Widows in India and you will get informations about how cruel the life of an Indian widow is.)
This winter SHDS has become a center, where more and more young freshly widowed desperate women with their children search and find support, advice, training, work and financial and medical help. The 19 young widows that were trained last year (2014) with your kind donations, are already able to produce first-class handicraft goods with the label: "widows for widows". Their work and your donations will help to train another 20 widows this year in loom-weaving, beads, embroidery, production of beautiful angle-dolls and Christmas-garlands. Maybe we also find jobs for them in other places under our protection in order to prevent abusive treatment, like it is still normal in connection with young widows.
We realized that it takes not even one week of support and work in a protective environment to change the appearance of a desperate young widow into a beautiful flower.
We are also grateful to Shanthimalai Ashram, who is ready to open their school to the widow children, which will include a sponsorship program. They will also provide medical help for the widows and their children.
Om Shanthi Old Age Home for widows is a home that was designed for old widows that were rejected from their families and their home and shunned from society, a sort of a hospice, where they could die peacefully. Instead it turned out to be a place of extreme happiness , joy and life….
12 women live here and are cared for by 5 single women day and night. Another 13 women will live here, when the second house is ready( probably in fall 2015).
Shortly after my arrival the house was painted freshly. The outside is orange, the inside yellow and the gates and window-bars tomatoered. Mary sings, Sagundela dances. Who can, helps with cooking or the gardening work. A lot of work and cow dung has created a very fertile tropical garden: Papayas, bananas, pumpkins, cucumbers, radishes, tomatoes, Indian beans, spinach, aubergines and chillies were harvested before construction work started.
Supporting and working for the widows of India seems to be the right task at exactly the right time. We all can feel the easiness and the bliss that is connected to everything that happens: Taking care of the old widows and helping the young widows to create a successful happy future for themselves and their children gives a lot of joy to everybody who is involved in this activity.
Come to visit us yourself in India like many visitors did and do all the time. We like to meet you here in India.
Lots of loves from Germany
With gratitude for your kind help and support
Anna
Here are the latest news of our project now for you:
My 3-months-stay in India is coming to an end and I want to tell you, how things are unfolding here in a way, we could never foresee. Om Shanthi Old Age Home has become a very joyful place. Four widows had been taken home to their relatives, after our socialworker Kodimalli had successfully applied for their government pension of 1000 Rupies (about 18 $).   We are so fortunate, that we cannot imagine the extreme poverty, people live in here in Indias´s countryside. New widows came into the house, there is no lack…….. . One of them, Sagundela, made Kalpana dance. (Maybe you do not remember: Kalpana cannot hear and speak, had about 10 abortions because of constant rapes of countless village-men and was traumatized.) Now she dances, works in the garden and is friend with 3 beautiful papayatrees. Another new widow was accompanied lately by her daughter-in-law. She was so weak, that she could barely walk. After 2 weeks of good food and our assurance, that she can go and visit her son (who had heart-surgery) whenever she likes, she says, she is so happy in our house and wants to stay. She got to eat only once a day from her daughter in law, the reason why she was so skinny and weak.
Another widow, Mary, came one week ago. We do not yet know her story, only that she is a widow, has no relatives and two daughters died, one only lately. She is happy. She radiated joy, telling me: "I am free here
– I am so free!" This is a great compliment to you the donators and to us, who work for them and their cause with all our heart.
We plan to start construction work of our second building in the garden for another 12 women maybe June or July. We have to start soon because inflation in India is increasing the prices of everything fast, although the total amount of 35000 $ is not yet in our hands.
The second part of our widow-program has changed since this month (February 2014). We found out, that 50% of the widows, that got our monthly pension of 300 Rupies (7 $) get already the government pension of 1000 Rupies. This is due to the effort of our socialworkers and our bookkeepers, who helped the widows with their application since months. It is also due to the female Prime Minister Jayalalitha, who lanched a program for destitute/poor people. Maybe even the gangrapes have contributed to help women to claim their rights here in India. The whole situation and time is good to fight for our cause and we just use the flow of favorable conditions to promote the women´s situation. So we decided, to stop the pension-donating-program and instead offer a training program of 2 months, where widows can learn some handicraft and get a job afterwards from Shanthimalai, the NGO, with which I work together already since 4 years. About 15 widows have up to now applied and we will start the training program the 1st of March. Free medical treatment is still given to all of them in Shanthimalai Hospital. In case of women in special difficult situations, we are of course ready to help in every respect.
Since we offer training and jobs, elderly women come and tell us about young married women in their neighborhood, that are beaten and mistreated by their husbands regularly and do not want to go back into this abusive marriage. We offer these women also training and job, although they are no widows.
This is a sort of a private letter, maybe with mistakes – please excuse! In India, we live very near the heart – formalities are not so important.
I am full of gratitude for your kind help. Take my favorite line from Ramana Maharshis Parayana-book (Friday) as a thank you for your support:
"The source from which the sun derives its power is myself"
Let us altogether dive deep into it…….
Love, peace and joy from Arunachala and the widows for you!
Anna
Om Shanthi lives