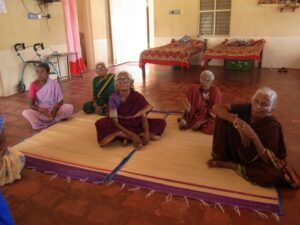 A "forever home" for elderly, homeless women is ready!
Every year when it is time to leave Tiruvannamalai, I feel my time here has been the best ever. You ask, "Why?"
Although it took a number of months to complete India's requirements and formalities regarding the inauguaral day for the Om Shanti Old Age Home, it is now up and running!
Since the opening in November 2012, 10 beds at the Om Shanthi Old Age Home have been occupied. The staff consists of 5 women who provide round the clock care for the widows: Saratha and Malathi, who work during the day, Santha Kumari and Rani take the overnight shift, and Kodimalli, who supervises and coordinates everything necessary to ensure the place runs smoothly. She is also responsible for the shopping and the office work. She is "one tough cookie" – just the right person to keep any unwanted visitors away. All attendants are single women (widows, divorced, or single) who live off-site, and earn an adequate salary for their work.
Manoharan is the loving father of the whole project, though he takes no credit. He insists that Arunachala (the holy mountain) is the blissful energy and father that is the cause of this effort, and provides for it. Manoharan's own mother died recently, and he cares for every widow as if she were his own mother, and the whole project with the very special loving attention of a father. Without him, nothing could ever have happened.
Originally, the intention was to open a hospice. The designation of "hospice" proved to be a misnomer, and is now called an "old age home". Why? The widows who moved into the house in a most desperate condition, seemingly near-death, started living a new life. Their health has improved tremendously, and everyone who comes in contact with them can feel the joy and love that is present here.
Every woman has their own special story. The youngest resident, about 30 years old, is deaf and mute. She has been significantly traumatized after experiencing repeated rape in her home village. The president of her village brought her to us. Nagamal suffers of polio since she was very young. Her sister-in-law used to beat her regularly, and denied her food. As she was not a widow (therefore, not "outcast" by the community), she was given food by her neighbors and allowed to sleep outside their homes.
Now, the adult children of these neighbors are curious. They come to see this "strange" house, where Nagamal now lives a happy life. They visit her and sometimes take her on their motorbikes back to the village. The happy, blissful atmosphere, which has changed the intended "hospice" into "house of full life" attracts many visitors: Yoga pilgrims from many countries, my friends from Rochester/USA, a group from Australia and my group from Germany, and children of the village. More and more Indian people come to see how these shunned women now live happy and productive lives in their new environment.
May these efforts and experiences change the consciousness of the hearts and minds of people! Our goal is to give these women back their dignity and self-respect, honoring them as equal human beings. The women receive free regular medical treatment at the Shanthimalai Hospital. Three of the women needed eye surgery, and seven others received new glasses. We have begun teaching the younger women some handicraft-work (painting, weaving bags) in order that that they may one day become independent.
The women receive two new saris upon their arrival, and then again for Christmas. They are also given inexpensive gold costume jewelry, which Indian women are fond of: earrings, bangles and necklaces.
Sometimes we just enjoy ourselves! We arranged for a bus to take everyone to a fun-park, where we sat under a tree enjoying a picnic lunch. We enjoyed Bhajan – concerts in our Old Age Home with friends from the USA and Germany. We have excursions where we visit nearby temples. A number of dear Western friends on pilgrimage with Ramana  shared an afternoon with the widows painting their fingernails, and received henna (temporary) tattoos, in return. A special thank-you, dear Ramana, and your pilgrimage participants for donating the wonderful solar-light, which is now illuminating the entrance of the home! There are regularly scheduled power-cuts at night, and this light provides an even safer environment for the widows.
The Old Age Home is situated at the entrance to the village. It seems it is no accident that the home with its light, is situated as a welcome to all who enter. This light may be considered as the "light of consciousness", raising awareness for all; a beacon in the darkness.
In addition, there are 130 widows living in the larger community who receive a monthly supplement of 300 Rupees $7 US), which is sourced from your donations. These women are often allowed to return to live with their families, given this income. Or, they may choose to continue to live as they have, at home on the streets to which they have grown accustomed. These women have also been registered to receive free medical treatment at the Shanthimalai Hospital.
Nearly every day there is a request from village authorities or the police to find a space where women who have been victims of rape can recover from abuse. Our goal is to build another house with more beds adjacent to the current building and need about $25000 to fund this project. Can you help? Every dollar is one step closer! Perhaps you would like to visit us in India yourself to experience and enjoy the love, compassion and joy that is in abundance here at the Om Shanti Old Age Home. (Please contact Paulette, or me should that be your intention.)
I wish to express my deepest gratitude to everybody who has provided support for this project, and for all of you who will do so. Further, I am filled with thanks for the employees of Shanthimalai, who have been working with the widows of Tiruvannamalai for the past 4 years, without compensation or salary. In particular, I wish to thank Manoharan. Without his devotion to the widows nothing could have happened.
Thanks also to the Shanthimalai Ashram, who donated the house and the property, which the widows now call "home".
For more information on the plight of widows, please go to YouTube. There are many videos about "widows in India".
Paulette is the strongest support in the USA for the widows of India project. Without her, nothing would have happened in Rochester and the USA.
Love and a big hug from Anna!