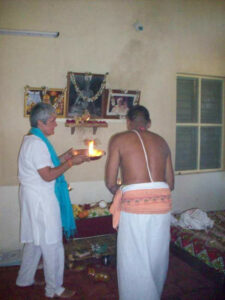 Om Shanthi Old Age Home is inaugurated
The 1/13/2012 is the beginning of "Pongal" the Indian Thanksgiving Day, the highest Indian official holiday and in the same time payment date of the widow's pensions. My travel group will pay to 82 widows our monthly alimony of 7$ = 250 Rupees, and distribute new  mats and thick cotton covers.
There is a big surprise for me: "Our" widows, i.e. sit in the left row  (they already got the monthly maintenance of 250 Rupees since 2 years) differ very clearly from the women  sitting  on the right side.  They are self-confident and quiet. Their whole appearance and body language is after 2 years of secure support another than those of their sisters on the right side. At this  moment  Zarah appears with her travel group. They all pull out their  purse and give a financial support of 250 Rupees to the destitute women on the right. Many thanks at this point to everybody!
The 18th of January 2012 is the inauguration of Om Shanthi Old Age Home. Now ten beds are ready for women in need.